Activities in 2007
Studies on south Arabian inscribed objects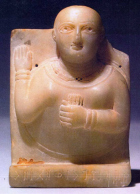 The experience gained in preparing the Corpus of South Arabian Inscriptions has paved the way for a series of research projects for analyzing inscribed artefacts from an artistic point of view.

South Arabian people loved writing and they left us texts often inscribed on beautiful stelae or plaques decorated with human and animal figures or vegetal friezes.

It is very important to study the relationships between objects and the texts inscribed in order to gain an understanding of the content of the text and how the iconographic elements can influence each other.
Moreover the study of iconographic elements could help to provide a more accurate chronology of the objects.

Our research is therefore two-pronged. Firstly we are studying groups of stone plaques showing seated women or standing men under an architectural structure.
The results of our studies will be published shortly and we trust that they will lead to a deeper understanding of certain aspects of south Arabian art: how it formed and developed and the interaction mechanism between outside influences (Mesopotamia, Egypt, the Hellenistic and Roman worlds and India) and purely south Arabian artistic expressions.

Secondly we are developing a new standard fact-sheet for the objects in the CSAI database. The section on the analysis of inscribed objects, already present on the website of the Corpus of South Arabian Inscriptions, will be added to with information on the archaeological and artistic characteristics of the objects concerned.
Our research group intends to prepare a standard fact-sheet for cataloguing every kind of inscribed object. Beforehand, however, precise typological categories have to be identified for containing the objects examined, and a controlled lexicon created for describing them. The fact-sheet will contain information about such archaeological and artistic aspects as context of discovery, measurements, material and technique, chronology and state of preservation.

We will proceed by inserting additional information on objects already present in the CSAI database. Once this phase will be completed, the user will be able to make cross-referenced searches not only on linguistic aspects but also on the archaeological and artistic characteristics of the catalogued objects.