Activities in 2005-2006
The Hadramitic inscriptions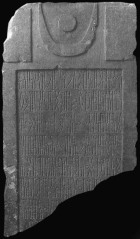 In addition to the many problems in comprehending Hadramitic inscriptions, they are often very difficult to date.
Studies on their chronology have been conducted by Pirenne (1979, 1990), von Wissmann (1968) and by Russian scholars like Bauer (1995) and Frantsouzoff (2001, 2005).
All these studies are based on palaeography, which is often considered the only proper method of dating.

Recently, after finishing her PhD and completing the computerisation of Hadramitic inscriptions (since 2006 available on the CSAI web site), Alessia Prioletta has applied an alternative method to these texts which had already been used in the edition of Qatabanic inscriptions (Avanzini 2004).
This method classifies the inscriptions by textual typology, and analyses the text considering the script style as a whole, namely also considering palaeography, formulary, lexicon and grammar.
The inscriptions of Raybun thus viewed (Prioletta 2005) confirm the existence of different coeval palaeographic styles, and highlight some important features both textual and extra-textual, which are useful in dating the texts.

The research will now move on to studying these data in depth and to begin applying the same method to the inscriptions from the other Hadramawt sites, the aim being to give them a more certain chronological frame so as to better understand the language and the history of Hadramawt.