Activities in 2011
Archaeobotanical studies at Salut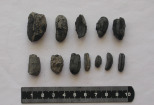 Date palm is one of the most important and oldest fruit crops and multiuse plant of the Middle East.
In the Arabian Peninsula its cultivation goes back to the Neolithic (Dalma Island, U.A.E.), while during the Bronze Age its use is testified in important sites such as Ra's al-Jinz (Sultanate of Oman) and Saar (Bahrain).

At the Iron Age site of Salut, dates are the most widely represented macroremains plant - either as kernels than as whole fruit.

The archaeobotanical research, carried out since 2004 by the Department of Plant Biology of the University of Florence, has given insights concerning the use of this plant during the Iron Age, in addition to providing a detailed overview of the ancient vegetation surrounding the site and of the presence of oasis farming.
In particular, the large amount of date palm pollen found in the specific archaeological context of the early architectural phase of Salut hints to the use of the male flowers as offering.


For further information see: Bellini C., Condoluci C., Giachi G., Gonnelli T., Mariotti Lippi M., 2011 - Interpretative scenarios emerging from plant micro- and macro-remains in the Iron Age site of Salut, Sultanate of Oman. J. Archaeol. Sci. 38: 2775-2789.